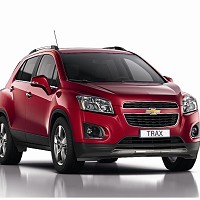 Chevrolet's new compact SUV will strut its stuff for the first time at the Paris Motor Show, the manufacturer said.
The Trax has a high driving position and is small enough to be used in city driving, measuring 4.25 metres long and less than 1.8 metres wide.
The Trax is smaller than Chevrolet's Captiva.
Trax designers have optimized the car's space, placing storage bins throughout the cabin and even beneath the 358-litre boot.
Flexibility is also a key design component as the car offers eight different seating configurations, with a 60/40 split folding rear bench seat and a front passenger seat that folds flat, enabling motorists to safely stow a long load.
Trax will offer three engines: a 1.6-litre petrol, a 138bhp 1.4-litre turbocharged petrol and a 128bhp 1.7-litre diesel.
The 1.4 and 1.7-litre engines will also offer a torque-on-demand part-time four-wheel-drive system.
In addition to engine choices, car buyers should look into car insurance options for the new Trax.
Chevrolet's MyLink will be standard equipment on upper trim levels.
The brand's MyLink is an infotainment system that allows smartphone users to display their phone's content on a seven-inch colour touch-screen in the car.
Beginning this winter, the Chevrolet's MyLink will include a navigation application that can be downloaded onto compatible smartphones.
The car screen will display the route calculated by the smartphone app.
Copyright Press Association 2012