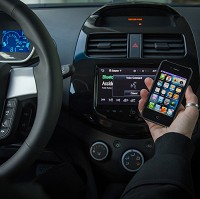 From next year owners of the Chevrolet Spark and Aveo models in the US will be able to link up their iPhone to the car's software enabling them to carry out a range of hands-free functions.
The iPhone will connect via Bluetooth to the car's MyLink software and a voice command button on the steering wheel will activate Apple's Siri voice control programme without the iPhone screen being turned on.
As well as making calls, users will be able to choose songs to listen to, compose written messages, access their calendar and add new appointments - all without needing to move their hands from the steering wheel.
Chevrolet's marketing director for small cars Cristi Landy expressed pride that the company is introducing the "Siri Eyes Free" feature in the Aveo - known as the Sonic in the US - and the Spark "well before the luxury brands".
She said the move is part of Chevrolet's commitment to providing "safe, easy, reliable and portable connectivity" for drivers.
The move was announced at the Chevrolet stand at the Los Angeles Auto Show, with the feature set to be launched early in the new year.
Copyright © Press Association 2012