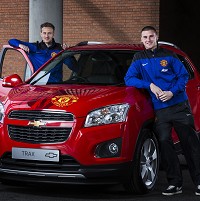 A Chevrolet Trax signed by the 2012/13 Premier League-winning Manchester United team has helped raise more than £17,500 for charity.
Players including the likes of Wayne Rooney, Ryan Giggs and Rio Ferdinand all signed the car, which eventually sold on eBay for a grand total of £14,301.
The 1.6-litre Sports Utility Vehicle, which also sports the club's badge on the bonnet, was part of a wider auction of Manchester United memorabilia donated by Chevrolet.
Among the other lots were Rooney and Nemanja Vidic match-worn shirts complete with autographs, as well as a David Moyes-signed copy of the Illustrated History of Manchester United.
All of the proceeds will go to the Manchester United Foundation to support its Ability Counts football programme, which offers disabled people the opportunity to play or coach with the club and has more than 150 players aged from eight to 40 years-old.
"The Manchester United Themed Chevrolet Trax Auction has been a fantastic success," said Rebecca Lawman, Head of Marketing at Chevrolet UK.
"The Manchester United fans have really got behind the auction and the money raised will go towards a fantastic cause."
Copyright Press Association 2013