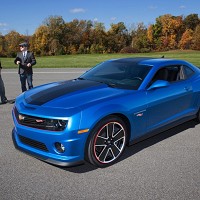 Car manufacturer Chevrolet is to build a special edition of the Camaro muscle car after it teamed up with iconic toy carmaker Hot Wheels.
The company said the V8-powered car will be more striking than usual due to the vibrant and graphics-accented paint scheme on the exterior of the vehicle.
The special edition model will also feature the two-tone graphics on the bonnets and flame graphics on the rear bumper.
The interior of the car features black leather seats with red stitching, while the Hot Wheels logo is embroidered onto the front two seats. Motorists will have the opportunity to buy either the automatic model, or the more powerful manual version that produces 426bhp - 27bhp more than the auto.
Chris Perry, vice president of Chevrolet marketing, said: "Millions of us grew up playing with Hot Wheels.
"Offering a special production model of the Camaro Hot Wheels is an opportunity to bring those memories to life, for kids of all ages."
Copyright © Press Association 2012