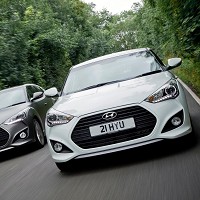 A budget-friendly Veloster Turbo is in the pipeline at Hyundai HQ, with the manufacturer aiming for a list price of under £20,000.
The news comes following the success of the Turbo SE (Special Equipment), whose turbocharged engine has brought a new dynamism to the unusual Korean design, and it is hoped a cheaper version will increase the model's appeal.
The Turbo SE recently went on sale for £21,995, coming with a huge kit list including leather seats, climate control, sat-nav and 18-inch two-tone alloy wheels as standard.
However, a Hyundai UK insider has revealed that by removing some of the luxury extras, a new entry-level version of the '1+2-door' car is on the way and is likely to be at least £2,000 cheaper.
It is thought the model will retain as much of the functional equipment as possible, but could potentially lose the sat-nav and leather seats.
Key visual features such as body kit and longer spoiler are set to stay. It has not yet been decided whether the 18-inch alloys will remain or need to be downsized to visually differentiate the two versions.
Further details are expected by March next year.
Copyright Press Association 2012