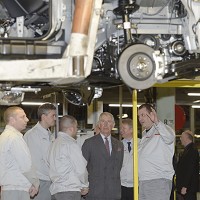 The UK's busiest car plant has received the royal seal of approval after a visit by the Prince of Wales.
More than eight million vehicles have been manufactured at the Nissan plant in Sunderland since the assembly line started rolling in 1986.
Charles, known for his enthusiasm for environmental work, took advantage of the visit to see the electric Nissan Leaf model being put together.
The Leaf is the only electric car being mass-produced in the UK at the moment, with supporters saying the model is 60% cleaner than conventionally-fuelled vehicles.
During the visit, Charles viewed the busy production line at work and met some of the 6,700 workers who are employed at the facility.
The royal also met the next generation of the Nissan workforce when he popped in to the firm's Skills Academy and chatted with a group of apprentices.
Charles also shared some time with pupils from Gillis Lane Primary School and the Venerable Bede Academy, both in Sunderland, and St Cuthbert's Catholic High School in Newcastle.
Copyright Press Association 2015