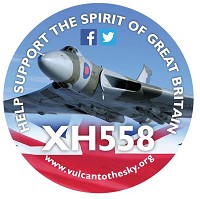 Motorists are being invited to use the space vacated by their tax disc to help keep an iconic aircraft in the skies.
Paper tax discs have been a familiar sight on the windscreens of UK vehicles for 93 years, but were scrapped last October following the emergence of online payments and electronic checks.
And now those missing the attachment on the corner of their windscreen are being urged to snap up a sticker picturing the XH558, the world's last flying Avro Vulcan aircraft.
The plane is operated by the Vulcan to the Sky Trust, which relies on sales of souvenirs and donations to keep it in the air.
Michael Trotter, the charity's business development manager, says it seems fitting to use the demise of one British icon to help another one survive.
The trust's Tax Disc Replacement features a picture of an airborne Vulcan and a motif that reads 'Help Support the Spirit of Great Britain'. Packs of three can be purchased from the charity's website for £4.
The XH558 is undergoing maintenance at Doncaster's Robin Hood Airport ahead of an appearance at the Royal International Air Tattoo in July.
It is the last remaining airworthy example of the Avro Vulcan V bombers which were operated by the RAF between 1953 and 1985.
Copyright Press Association 2015