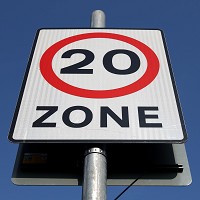 Road safety charities have joined forces to launch a campaign urging the Government to reduce the speed limit to 20mph in built-up areas.
The 'GO 20' campaign hopes to get motorists to slow down around homes, schools and shops in an attempt to makes Britain's roads safer for pedestrians and cyclists, while potentially reducing the amount of car insurance claims.
A newly-formed coalition of charities, involving Brake, Sustrans and the Campaign to Protect Rural England, launched the initiative to mark the start of this year's Road Safety Week.
Brake recently surveyed more than 8,000 seven to 11-year-old's and found that 70% would walk or cycle to school if their neighbourhood was less dangerous, with 43% saying they had nearly been hit by a speeding vehicle while walking or cycling.
More than three-quarters (77%) of youngsters said motorists were driving too fast around their school or home, while 54% revealed they had been hurt by traffic at some point in the past.
Julie Townsend, deputy chief executive of Brake, said: "Everyone should be able to walk and cycle in their community without fear or threat: it's a basic right, and GO 20 is about defending that."
Copyright Press Association 2012