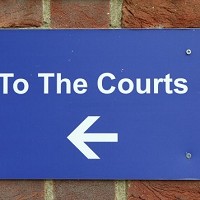 From late March, low-level motoring offenders can make their pleas online to save time and money.
The Government's new Make A Plea digital service will offer this alternative to drivers who have committed 'minor' motoring crimes. These include driving with no insurance and speeding.
Shailesh Vara, the Courts Minister, says the Government's £160 million courtroom digital technology investment will not only make justice quicker, but simpler too.
It should also improve traffic, with many no longer having to head to the courts to submit a plea in person. This should also free up police and court staff to concentrate on more complicated cases, he said.
RAC spokesman Simon Williams said: "Our courts deal with a large number of minor motoring offences each year, so it makes absolute sense that in the 21st century we use secure web technology to relieve some of the pressure.
"Make A Plea should speed things up for motorists and the courts alike, freeing the latter up to deal with the more serious motoring offences such as dangerous driving."
The new system allows charged drivers to make a plea around the clock from any appropriate device via a new secure website.
Courts handle roughly 500,000 minor driving offences every year with pleas made through the post or in person.
The Government's new court modernisation package, which includes new wifi, video links and upgraded IT networks, will help to greatly save on paper usage.
Copyright Press Association 2015