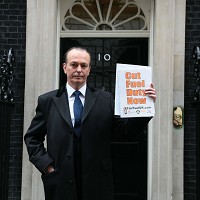 FairFuelUK is imploring the Chancellor to act decisively in his March Budget to slash fuel duty. The call comes in response to reports that petrol and diesel prices are set to hit record levels in the coming days.
"Fuel prices are out of control and are now the biggest financial issue faced by UK consumers," FairFuelUK spokesman Quentin Willson said.
Mr Wilson, a motring journalist, said that fuel sales were now at their lowest for 23 years.
"In January consumers bought 100 million litres less than they did in December 2012 costing the Treasury £60 million a month in lost revenue. Yet despite this slump in petrol and diesel sales, pump prices have risen 6p in the last 30 days."
Mr Willson said abreakdown of regional petrol and diesel prices show there can be a 20p a litre variation with some rural motorists paying as much as £1.59 for a litre of diesel.
"We are urging the Chancellor to decisively cut Fuel Duty," Mr Willson said.
Peter Carroll of FairFuelUK also gave his opinion on why the Chancellor should cut the fuel tax: "Fuel Duty is the most 'toxic' of taxes. It hurts the poorest the hardest and is holding back growth. Drivers and businesses are paying an eyewatering 80p per litre in combined VAT and Fuel Duty.
"All our research shows that cutting Fuel Duty will give the Chancellor the thing he needs most - growth in the UK economy."
Copyright Press Association 2013