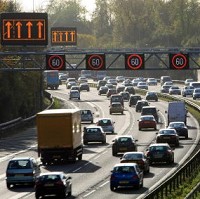 Lorry firm leaders are urging George Osborne to prioritise roads infrastructure in this autumn's Spending Review.
The Chancellor will set out on November 25 how he intends to make £20 billion savings, as he seeks to wipe out the UK's deficit over the next four years.
He will also announce which public services will get precedence.
Freight Transport Association (FTA) officials have sent Mr Osborne a pre-review submission, calling on him to keep the country's cargo moving if Britain is to continue growing.
The FTA says the British economy is dependent on the freight industry, so it's key that roads are invested in to make them less clogged-up. It particularly wants Mr Osborne to put in place steps to remedy the country's current truck driver shortage.
The Association's policy director Karen Dee says Britain is today up to 60,000 drivers light. She is calling on ministers to help it find an answer to benefit the economy and logistics sector alike.
Ms Dee says that an investment shortfall in vocational training has seriously hit industries such as logistics. She claims it remains "essential" that Mr Osborne safeguards existing strategic road plans.
Ms Dee is also urging the Chancellor to fund repairs to current road arteries, especially those serving extra south-east airport capacity.
In addition, he should make sure that the planned Roads Investment Strategy (RIS) and National Infrastructure Plan (NIS) are seen through, Ms Dee says.
Copyright Press Association 2015