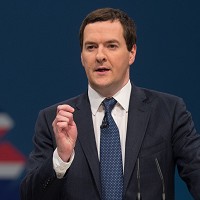 Chancellor George Osborne delighted motorists on Monday with a promise to freeze fuel duty until May 2015.
Although the pledge was conditional on finding savings to cover the costs, Mr Osborne unveiled the move as part of an ambition to ensure that a future Conservative government will run a surplus in good times as well as bad.
The chancellor told the Conservative annual conference in Manchester that running a surplus by bearing down on welfare and state spending even after the deficit is eliminated, will allow Tories to deliver tax cuts and increase investment in infrastructure.
This would ensure the UK is prepared for any future economic crash.
Mr Osborne dismissed Ed Miliband's promise of a freeze on gas and electric prices after the 2015 general election as a gimmick, claiming he is taking immediate action to help motorists. Freezing fuel duty would help with the cost of living for many households coping with motoring andcar insurance costs.
Mr Osborne said, to loud applause: "Provided we can find the savings to pay for it, I want to freeze fuel duty for the rest of this Parliament.
"Conservatives don't just talk about being on the side of hard-working people. We show it day in day out in the policies we deliver."
Copyright Press Association 2013