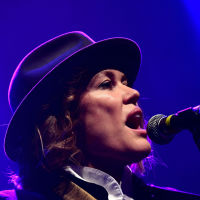 One-time 'Road Rage' songster Cerys Matthews is these days singing the praises of electric cars.
The former Catatonia star has made a new video with her current group shot exclusively in plug-in and other gas-free cars.
Matthews hopes the song will help to promote the idea of which is kinder on the environment. The Go Ultra Low initiative is using the tune as part of its campaign for greener transport.
The eco-friendly vocalist says the e-cars also played a part in helping her latest song, 'Float On Down To Monte Carlo', sound more acoustic.
Matthews says she was shocked just how much she enjoyed the ride from the noisy city into quiet rural areas. She said: "There was no more having to shout, or sing, above the engine noise it was a much more relaxing experience."
Electric cars have given everyone the chance to lead the kind of eco-friendly life that she wants for her own family, Matthews says.
She added: "The inspiration for the song is the idea of being taken away from noisy and complicated everyday life to a place where you can hear yourself think and dream."
The 47-year-old BBC radio presenter has led by example. She has invested in half-a-dozen e-vehicles to transport people during this September's Good Life Experience Festival held on the Hawarden Estate, North Wales. This is an annual celebration of food, books, music and everything outdoors, which Matthews co-founded.
The scheme is supported by the UK motor industry and the Government.
Copyright Press Association 2016. Motoring News articles do not reflect the RAC's views unless clearly stated.