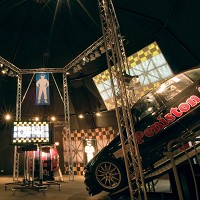 To mark the Queen's Diamond Jubilee, car lovers are invited to attend a drive-in of 1950's vehicles taking place at the National Motor Museum in Beaulieu from 2nd - 5th June.
The family fair will feature 50's cars, motorbikes, commercial and agricultural vehicles displayed in the pleasant Beaulieu parks and also on procession around the area.
Any owners of 50's vehicles can attend the drive-in on any of the four days for free, but will need to apply for a place beforehand.
The family fair will also include 50's themed attractions such as dodgems, swing boats, a carousel and side stalls where prizes can be won.
Live music from jazz twosome Riverboat Days will soundtrack the four-day event, while Great British bunting, flags will decorate the event in celebration of the Queen's 60-year reign.
Copyright Press Association 2012