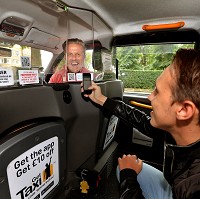 Cold, hard cash won't get you anywhere with one London cabbie this week - he is only accepting payment via a mobile phone app.
As a part of a five-day Barclays PingIt trial Ian Cable is pioneering new technology in his 'cashless cab', just as he did in 2004 when he was the first taxi driver to take chip and pin card payments.
He says payment via mobile phone is not only more convenient for passengers who don't have to handle cash in the back of his cab, it is better for him too as he will have more time to pick up and carry Londoners and tourists.
He won't have to go to the bank to deposit any cash and he won't have to risk parking fines by stopping at cash machines for passengers who are without money.
Using the mobile phone payment technology makes good sense, as 20 million people will be using it by 2020, according to the Centre for Economic and Business Research.
The black cab trial is a good example of the potential of mobile payment technology, Barclays Mobile and PingIt director Darren Foulds says.
Mr Cable's passengers will need the app on their smartphones and will use its QR code reader to scan his cab's unique code.
Those using the technology don't have to bank with Barclays.
Copyright Press Association 2014