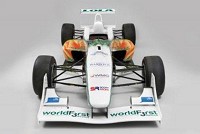 The world's first racing car made from cashew nut shells, potato starch and plastic bottles has been assembled.
The Formula 3 car, which can reach speeds of 130mph, was designed and built by a team of researchers at the University of Ulster (UU) and the University of Warwick.
Dr Julie Soden, researcher at UU, said the production of the car is "exciting and refreshing".
She said: "While the safety critical parts are not made from sustainable materials, the racing car is evidence of the significant advances made by researchers into what is readily achievable in the sustainable composites field."
The barge board, positioned behind the front wheels, was designed by Dr Soden's team. Used to improve airflow around the car, it is reinforced by high-strength flax fibre woven into a multiple layer fabric. The car will run on biodiesel.
Dr Soden said: "The next step in the process is the testing and improvement of the first design, so the initial work will be built upon to show the full potential and the scope of the research."