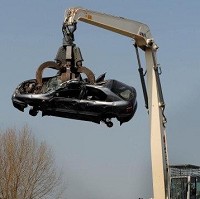 The Government has extended its 'cash for bangers' scheme to cover an extra 100,000 cars and vans.
Around £300 million was initially allocated to the scheme, which gives motorists £2,000 when they exchange cars of more than a decade old for a new model.
Industry groups had been calling for an extension of the scheme as the initial tranche of cash ran out.
Business Secretary Lord Mandelson said there were positive signs of a recovering economy.
But he warned: "Recovery remains fragile and uncertain, especially in manufacturing, and one of its cornerstones, the car industry.
"Our car scrappage scheme has been so successful the money is running out. The industry has asked that the scheme be topped up. We cannot do everything, but that does not mean doing nothing."
Trade unions and industry groups have praised the scheme and hailed the extension.
TUC general secretary Brendan Barber said: "This is a very welcome move.
"The economy is still in a very fragile state. Cutting off support of this kind or making cuts in spending could easily choke off the few precarious signs of recovery."
Copyright © Press Association 2009