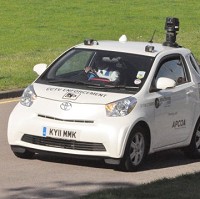 Councils are to be banned from using so-called CCTV 'spy cars' to retrospectively snare motorists who breach parking regulations, it has been revealed.
Instead of using the CCTV footage to later send out parking tickets in the post, councils will only be able to have wardens put them on to vehicle windscreens in person, the Government has said.
But the use of spy cars won't be outlawed altogether with councils still able to use them to issue tickets by post to drivers who commit offences in designated bus lanes, at bus stops, near schools and on certain main routes.
Local councils post out some nine million parking fines a year. This raised a total of around £1.3 billion in 2010.
C ritics say councils have been using the spy cars as a money-raising tool with the Government now moving to stop what it describes as "over-zealous" practices.
The Government says the ban will be of benefit to motorists and local shops. Many people having switched to purely online shopping or out-of-town retail parks to avoid the CCTV cars.
Eric Pickles, the communities secretary, says instead of using them as a "cash cow" councils should be using the CCTV cars to catch real criminals.
Copyright Press Association 2014