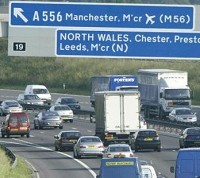 Parts of Greater Manchester's road network are to get a £40 million Government-funded facelift intended to benefit 900,000 motorists.
The 2,050 miles (3,294 km) of roads are in the Oldham, Rochdale, Stockport and Tameside areas of the city.
The money - £33 million immediately and £7 million when all the necessary consents have been obtained - will be used for repairs and maintenance.
Says transport minister Sadiq Khan: "I'm delighted to be able to announce this new Government funding which will allow important works to be carried out to the Greater Manchester road network.
"These will bring long-term benefits for all those travelling in the area, whether for business or leisure, by preventing future problems which would cause disruption and delays for motorists."
Oldham drivers will benefit most, receiving £22.2 million, with Stockport receiving £8.3 million, Rochdale £7.6 million and Tameside £7 million.
Local authorities will contribute £4.5 million to the £254 million allocated to the North West for road maintenance over the next two years.
Copyright © Press Association 2009