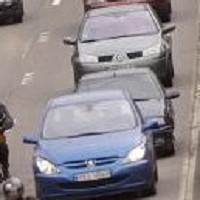 A new study has shown that the car is still a more popular mode of transport than surface rail.
AA analysis of the Government's latest National Travel Survey revealed that while 8% of distance travelled last year was by rail, an overall 80% was journeyed in a car.
This was despite the cost of fuel and the general economic position causing the average car mileage to drop from 9,700 miles in 1995/97 to 8,670 in 2008.
Edmund King, president of the AA, said: "Despite the cost of fuel, we are still a nation dependent on car travel which accounts for four-fifths of distance travelled.
"Drivers have reduced their mileage due to economic conditions but there is still 10 times the distance travelled on road rather than rail."
Compared to petrol cars which have an average mileage of 7,670 miles, diesel cars ran for 12,210 miles, the survey revealed.
The number of company cars has decreased from 7% of cars to 5%, and the busiest days on the roads are Fridays.
As much as 19% of all trips were for commuting or business travel, representing 28% of all distance travelled last year.
Around 8,000 households containing 19,000 people were part of the National Travel Survey (NTS) in 2008. The household survey provides personal travel information for Great Britain and reveals long term trends.
Copyright © Press Association 2009