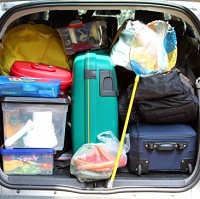 Most British motorists ignore fuel economy warnings and use their vehicles to store junk, according to a new survey.
A new poll suggests 5% do so because their properties are not big enough to house all their clutter.
Michelin says the additional weight of unnecessary in-boot items potentially offsets any fuel economy gains made by modern motors.
In fact, the RAC claims that each 50kg will, on average, raise fuel use by 2%.
The survey also found that over one in four motorists are too lazy to clear out their car, while one in three only bother to do this around four times a year.
Among the unnecessary items drivers admit to storing in their motors includes cleaning accessories (36%), shoes (31%) and books (26%).
Magazines and toys are hoarded by 20% and 18% of motorists respectively, while 16% of drivers admit to in-car "work-related" stuff and pet accessories.
Michelin's technical manager for the UK, Jamie McWhir, said the findings show that the UK is a car-hoarding nation and that lugging around such needless clutter is adding to motorists' fuel bills.
Meanwhile, leaving it too late to change gears, harsh braking and acceleration, having under-inflated tyres and driving too fast are all things not to do when looking to lower fuel consumption .
Copyright Press Association 2015