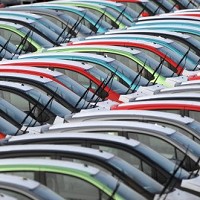 New car sales are on course to hit a 10-year high as demand for the latest models continues to power ahead.
Figures published by the Society of Motor Manufacturers and Traders (SMMT) show there were 179,714 new registrations in October - a 14.2% year-on-year rise - taking the total so far in 2014 to a whopping 2,137,910.
It is the first time the two million mark has been reached in October since the pre-recession days of 2007.
The SMMT expects to see another surge in new car sales during November and December, especially over the festive period, catapulting year-end sales as high as 2.46 million. If this happens, it would be the highest annual total since 2004.
Registrations this year have already outstripped the total for 2013 by as much as 12,000, thanks in part to a significant rise in purchases of alternatively fuelled vehicles such as petrol-electric hybrid cars.
Sales of pure electric cars have more than doubled over the course of the last 12 months, while those of plug-in hybrid and range-extended models look set to at least quadruple by the end of this year.
The SMMT attributes this growing popularity to increasing range of models for buyers to choose from.
Copyright Press Association 2014