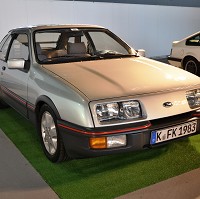 Britain's most endangered cars have been named in a new RAC report.
The Austin Ambassador is among the vehicles most quickly disappearing from the UK's roads.
This is according to the Memorable Models Test of Time study from RAC Cars , which named the 10 models most at risk from vanishing off our roads forever.
There are only 17 of the wedge-shaped Ambassadors remaining on the country's highways. This compares with the 5,515 that were road licensed 20 years earlier.
The fact that just 43,427 Ambassadors were made in Britain during their 1982-84 manufacturing period could be behind this.
The Princess, its British Leyland-made predecessor, is the second most endangered car, with only 45 of the original 225,000 production run surviving to this day.
RAC Cars' scrutiny of DVLA car information places the Lada Riva third in the list of rarest models which are no longer made. The Russian-made car was built in the UK from 1983-87 but its numbers on the road have tumbled from 56,898 20 years ago to just 60 today.
Overall, just 188 out of 109,732 Ladas originally snapped up by Britons are still licensed.
Pete Williams, spokesman for RAC Cars, says: "Each generation of drivers has fond memories of the cars that were on the road when they were growing up and when they began their lives behind the wheel.
"While it is obviously inevitable that numbers of many old favourites - both loved and ridiculed - dwindle over time, it is sad too to realise they may soon become extinct from road use.
"We hope that there are plenty being kept by collectors and museums so that these vehicles can still be appreciated in person rather than just via images on the internet."
"At RAC Cars we love cars in all shapes and forms which is why we let people advertise them for free.
"This formula has been so successful that we now have more than 250,000 cars on sale on the raccars.co.uk website."
Vauxhall Cavalier numbers have fallen to 4,871 this year from 1,201,833 two decades earlier. The Ford Sierra's decline has seen numbers plunge from 4,147 now to 1,052,418 in 1995.
Copyright Press Association 2015