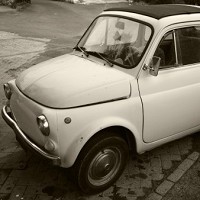 Britain's motorists are hanging on to their cars for longer than they did 25 years ago as households try to economise and combat the financial crisis, according to a new study.
British Car Auctions (BCA) looked at Driver and Vehicle Licensing Agency (DVLA) stats and sales data and found that the average car is now about seven-and-a-half years old, approximately a year older than in 1987.
More than a quarter of the market is now made up of cars that are six to eight years old, compared with just 7.4% last year.
Tim Naylor of the BCA said: "The squeeze on household spending means motorists are looking at different ways of managing their travel costs. Some are deciding to choose slightly older, cheaper cars when they change their vehicle.
"Others are looking for more economical cars that deliver a better miles-per-gallon as they try to combat rising fuel costs. We have also seen a decline in the number of multi-car households which suggests families are having to economise with their personal transport needs.
"Crucially, company fleets have been holding onto their cars for longer and changing them less frequently."
Copyright Press Association 2012