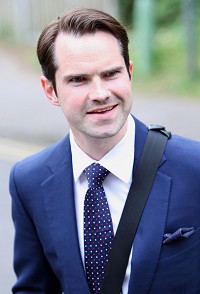 Comedian Jimmy Carr was driving 10mph over the speed limit in Suffolk when he was caught by a speed gun, his trial has heard.
The host of TV show 8 out of 10 Cats was driving his Bentley GT at 50mph in a 40mph zone in Boxford on April 30 last year, prosecutor David Hutson told Sudbury Magistrates' Court.
Mr Carr, who denies the offence, was not present in court. His lawyer Nick Freeman - known as Mr Loophole - told the court that the speed limit was "void".
The speed limit on the A1071 starts from 340m west of Boxford Lane, but Mr Freeman argued that the road was actually called School Hill.
Questioning the "legality" of the 40mph speed limit of Boxford Lane, he said: "The speed limit is void because the wrong road has been referred to as being the start of the speed limit."
Prosecutor Mr Hutson maintained that Boxford Lane was technically a continuation of the main road.
The trial was adjourned so that the names of the roads could be clarified.
A pre-trial review will take place on October 7 and resume later in the year.
Copyright © Press Association 2009