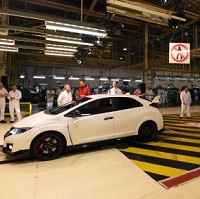 Britain's motor manufacturing industry is fast outpacing the rest of the country's production sectors, according to official new figures.
The trade has been recovering at a typical level of 3.1% every three months since the economic crash - in contrast to the 0.3% seen in UK manufacturing overall.
The Office for National Statistics (ONS) also finds that British carmakers broke their previous record during the last quarter of 2013.
The general manufacturing industry is still to surpass the peak it reached prior to the financial downturn, the ONS shows.
Britons buying a car have been very supportive of the home market.
They have helped to bring about an increase in vehicle registrations for 41 consecutive months, according to the latest figures which cover July. That month's 178,420 sales pushed the number of new motors to beyond 1.5 million in 2015.
In addition, the ONS finds that motor manufacturers are only behind food manufacturing and metal component production when it comes to the £12 billion it annually contributes to Britain's economy. This figure is arrived at through calculating an industry's output minus its input employed during production - or gross value added (GVA).
Car manufacturing only accounts for 6% of all production employees with 141,500 staff. Yet its yearly turnover - £60.6 billion - still represents 12% of the UK's overall manufacturing revenue.
EEF believes that high-tech motor sector manufacturing systems could be behind the increased productivity rates. The sector trade body's deputy chief economist, Zach Witton thinks that vehicle manufacturers remain one step ahead of the game.
He predicts that automation will become more and more commonplace as UK manufacturers move towards the so-called "industrial revolution No.4". Mr Witton says the heralded "Industry 4.0" will reduce overheads and improve efficiency by digitally linking up the supply and production chain.
The auto industry has also seen annual research and development (R&D) spend nearly double to over £2 billion, faster than elsewhere in Britain's manufacturing industry. These tests have been much more daring than other manufacturing industries with 82% of all R&D investment going into "experimental development".
Copyright Press Association 2015