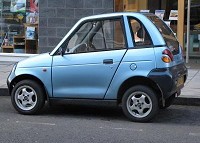 Carmakers in the UK have cut CO2 greenhouse gas emissions by 40% per vehicle in the last 10 years, according to the Society of Motor Manufacturers and Traders (SMMT).
And it says that the 1.5 million cars and commercial vehicles and 3 million engines the industry produces annually contribute £10 billion a year to the UK economy.
Meanwhile, 70% less waste per vehicle has entered landfill sites, and energy use per vehicle has been cut by 24.2%, 12% lower than the European average.
Says SMMT chief executive Paul Everitt: "Manufacturing will play an important part in the economic recovery, and the transition to low-carbon vehicles offers new and exciting opportunities for the UK motor industry.
"The transition to a low-carbon economy through investment and demonstration of ultra-low-carbon technologies is crucial to our future."
He says that the New Automotive Innovation and Growth Team will ensure that the industry "remains a global force playing a significant role in the development of exciting, low-carbon transport solutions".
Copyright © Press Association 2009