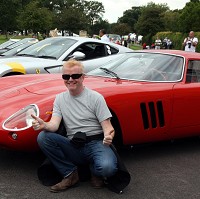 Hundreds of iconic motors will be on show as CarFest returns for 2014 - and this year it promises to be bigger and better than ever before.
The event, the brainchild of self-confessed petrol-head and radio personality Chris Evans, has become something of a Shangri-La among car enthusiasts, combining fast models of the modern era with classics from days gone by.
CarFest North will take place at Oulton Park circuit in Cheshire over the weekend of August 1-3, while CarFest South will be held at its usual venue of Laverstoke Park Farm in Hampshire on August 22-24.
Evans' own 'Magnificent 7' collection of amazing Ferraris will be on show - and the Sevens theme will continue with a number of new categories such as Rock Star Seven, Hod Rod Seven and Movie Car Seven, alongside the more familiar F1 and Rally Sevens.
Pink Floyd drummer Nick Mason's stunning Maserati 250F will be part of the special Anniversary Seven to celebrate the Italian automaker's centenary year, while Ford's newly revealed 2015 Mustang will feature among the Muscle Car Seven to mark 50 years of the much-loved American classic.
Copyright Press Association 2014