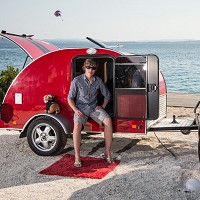 Drivers are most irritated by being stuck behind a tractor or caravan, according to a survey around summer motoring pet hates.
Other annoying summer driving scenarios including traffic congestion on bank holidays and loud music blaring from the cars of boy racers.
With many families off on holidays which involve long car journeys, it is important for drivers to check their breakdown cover to ensure they're fully covered for all eventualities across the UK.
Motorists aged 60 and above seem the most irritable, according to the research by car history check firm HPI, and are most likely to find loud music, traffic jams, caravans and tractors annoying.
Other pet peeves are a lack of air conditioning in vehicles, steering wheels being too hot, leather seats becoming sticky and not remembering to pack sunglasses while driving.
More than a quarter (28%) of women find driving without air conditioning irritating compared to less than a fifth (18%) of men, the research shows.
Half of women say they dislike hot seats and steering wheels, too, while this appears to be less of a concern for male drivers.
The remaining summer driving hates include children complaining during long car journeys, driving while wearing flip-flops and getting sunburn on one arm.
Copyright Press Association 2014