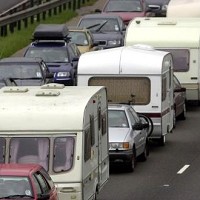 Motorists preparing to take their caravan on holiday this summer are being urged to make sure their tyres are properly inflated and in good condition before they hit the road.
New Highways Agency figures show that almost half the 5,000 incidents which involved a towed caravan or trailer in 2013 happened in July, August and September.
But experts at TyreSafe say the number of incidents and breakdowns could be reduced by drivers carrying out simple safety checks on their caravans and trailers, as well as the cars which are towing them.
The organisation says tyres which are not inflated enough are likelier to overheat and fail which can result in drivers suddenly losing control of their vehicle.
Drivers are also being urged to regularly check tread depth, watch out for signs of damage like bulges, cuts, cracks and lumps and, if they spot them, have the tyres checked out professionally.
Copyright Press Association 2014