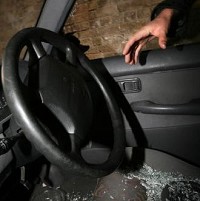 More sophisticated technology is helping to keep motorists far less vulnerable to car theft than a decade ago, new figures suggest.
The number of drivers claiming on their car insurance for theft has plummeted since 2004 to reach a new 46-year low.
But with the volume of thefts still just short of 70,000 last year, the need for drivers to safeguard their vehicles is still paramount.
In 2004, 231,323 vehicles were reported stolen, compared to 69,547 vehicles in 2014 - a drop of 70%, according to latest figures from the Office for National Statistics (ONS).
The last time car theft fell below this level was in 1968.
There were 842 (or 1.2%) fewer incidents in 2014 than the year before it. Only one in 500 (0.2%) vehicles were taken last year out of over 36 million licensed motors.
Experts attribute a sharp fall over the past 10 years to the rise of new technology which is helping car manufacturers make vehicles more secure than ever.
Multi-billion-pound funding goes into keeping cars safe and one step ahead of the thief, with advanced security equipment now standard.
The motor industry hopes to bring down theft further still by urging the Government to collate more comprehensive information on how cars are actually being stolen. Intelligence among police forces is being hampered by lack of countrywide knowledge about current trends in thefts of specific vehicles.
Mike Hawes, chief executive of the Society of Motor Manufacturers and Traders (SMMT), urges authorities to set up improved tracking for each particular make. This, he said, would build up an upgraded know-how of thieves' operating practices and help future technology develop which could wipe out car crime.
Mr Hawes said that carmakers' "significant investments" in state-of-the-art security networks had helped to lower car theft throughout Wales and England to its lowest rates for decades.
The ONS has been collecting vehicle theft information across the country for 113 years. Its research helps to form a crime figures study every three months, which the Government's Home Office department publishes.
Copyright Press Association 2015