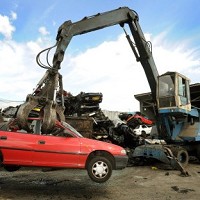 Tens of thousands of vehicles may be scrapped by their owners because road tax costs have become so high, it is reported.
The cost of taxing some cars that are just seven years old now equates to around a third of their total value, according to car running costs specialist CAP Automotive.
Changes to vehicle excise duty (VED) bands introduced in 2006, which were designed to penalise high-emission vehicles, are said to be the main cause of the problem.
Cars registered since March 23 2006 that have CO2 emissions of between 226 and 255g/km now cost £475 to tax, while cars that emit over 255g/km cost £490 a year.
CAP believes there is a danger that these types of vehicles could quickly become worthless, even though they emit relatively little pollution, because older and less economical cars are generally driven less.
At a time when motorists are keener than ever to bring down their running costs by finding cheapcar insurance and low-tax vehicles, these cars could become increasingly less desirable.
CAP suggests that the VED rates for the top two CO2 brackets could be lowered after the car hits a certain age, as this could prevent perfectly roadworthy vehicles being sent to the scrapheap.
Copyright © Press Association 2013