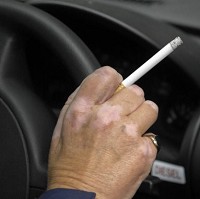 Drivers who smoke in cars with child passengers could be fined £50 if they are caught doing so in future.
New laws, which could come into effect from next October, would also see drivers punished if they failed to prevent others from smoking in private vehicles containing under-18s.
The Department of Health said the move would protect children from the serious health harms of smoked tobacco.
It is expected that MPs will vote on the subject before the May election, with the law coming into effect from October 2015 if it is supported by politicians.
Health Minister Jane Ellison said she believes that second-hand smoke poses a genuine threat to children's health and she stressed the importance of children growing up free from the "risks of smoking".
A separate move may see under-18s banned from buying electronic cigarettes.
Owing to the recent arrival of the products in the marketplace, no law exists to prevent children from buying the so-called e-cigarettes, but a six-week consultation found many supported the idea of a new law.
Copyright Press Association 2014