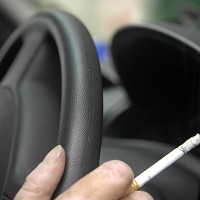 The law could be changed to make it illegal to smoke in a car when children are being carried as passengers.
Prime Minister David Cameron said the Government was investigating whether the ban would be possible along with a further anti-smoking measure to ban display packaging on cigarettes.
Stopping drivers smoking in cars would not only reduce the health risk to children but could also improve road safety, reducing the chances of motorists being distracted and causing an accident which leads to a claim on their car insurance.
Labour MP Ian Mearns had asked Mr Cameron whether he was in favour of banning smoking in the same vehicle as children during a discussion in the House of Commons.
Mr Cameron said the issue would be looked at in detail, along with other measures to reduce smoking in Britain and protect public health.
A spokesman for the Prime Minister later confirmed that a potential ban was something which could be introduced at some point in the future if it was believed it would produce a worthwhile health benefit.
Dr Penny Woods, chief executive of the British Lung Foundation (BLF), welcomed the news that the issue was being considered by the Government and urged MPs to press on and introduce the ban to protect children from being harmed by cigarette smoke.
Copyright Press Association 2013