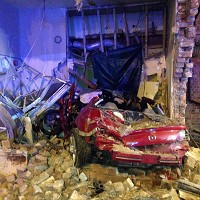 Paramedics say the driver of a car which left the road and ploughed into a public toilet block is fortunate to be alive.
The man, who is thought to be in his late 30s, was trapped in the wreckage of his car following the crash on the A5 in Cannock, Staffordshire.
While fire crews tried to free the man, paramedics desperately tried to treat him while he was still trapped inside the car.
It is thought the car left the road and travelled over a wall before smashing into the toilets of the Longford House Beefeater public house.
Emergency services were called at about 1.35am today (Monday) and found the car deep inside the toilet block and the man badly trapped.
Emergency blood supplies were taken to the scene of the crash and once released, the man was transferred by ambulance to a major trauma unit for further emergency treatment.
An ambulance spokesman said that given the extensive damage to both the car and the building, it was very lucky that nobody was more seriously hurt or killed in the accident.
Copyright Press Association 2014