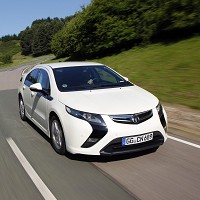 A car share company has confirmed it is to offer the new electric Vauxhall Ampera to its customers.
Zipcar, which operates a sharing club with around 1,700 cars across London, is the first of its kind to offer an extended-range electric vehicle for its customers to reserve in the same way they would with any other vehicle.
The Vauxhall Ampera, which won the prestigious European Car of the Year Award 2012, is equipped to drive for 50 miles without creating any emissions at all.
After the onboard battery is exhausted, the car automatically switches to a petrol generator, which powers the electric engine for a further 310 miles.
However, given that a large proportion of Zipcar journeys are less than 35 miles long, company officials believe the Ampera's zero emission 50 mile range will make the model very popular with customers.
Commenting on the news, new business fleet sales manager at Vauxhall Stewart Gibbs said: "With the Ampera, Vauxhall has brought to market the first electric vehicle that can go anywhere anytime. Partnering with an innovative company like Zipcar which is committed to helping the environment is a partnership we're delighted to be involved with."
Copyright Press Association 2012