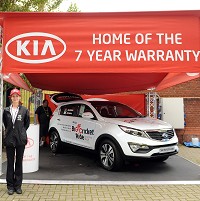 More car manufacturers are set to offer vehicle service packages and even longer warranties than ever before, according to a motoring expert.
Steve Huddart, service, maintenance and repair (SMR) leader at GE Capital, made the prediction at fleet operators' group ACFO's annual conference in Rockingham.
"Selected manufacturers are now offering service packs as well as introducing national pricing policies in a bid to retain SMR work within their franchise dealer networks, and there will be a point in time when every manufacturer is offering service packs or national pricing," he said.
And with Kia now offering a seven-year warranty, other manufacturers are likely to follow suit.
Mr Huddart said longer warranties give firms the opportunity to make sure that more SMR work is covered under warranty, and could see SMR costs more accurately forecasted.
One of the biggest challenges facing vehicle leasing companies is making sure that company car and van drivers get their vehicles serviced on time in accordance with manufacturer guidance.
"The sooner the vehicle is serviced costs will be mitigated," Mr Huddart said. "It is a big challenge to get vehicles in for service on time. The onus is on the driver."
Copyright Press Association 2013