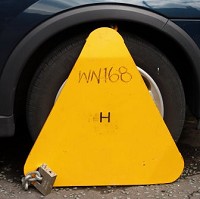 A driver's car has been seized by the authorities after racking up unpaid parking fines of £18,000.
The Peugeot 306 driver received 220 parking tickets and failed to pay the fines, leading Portsmouth City Council to take the enforcement action.
Along with contracted bailiffs, the council said it had made a series of attempts to contact the owner but to no avail, so they ultimately decided to clamp and seize the car from Somerset Road in Portsmouth.
Councillor Jason Fazackarley, the local authority's cabinet member for traffic and transportation, said it was an "extreme" case in which the perpetrator had shown "blatant disregard".
The local authority will now go ahead with legal action to pursue the debt it is owed, he added.
"It is not fair for the majority of residents or visitors who park respectfully, or those who contact us once a penalty notice has been issued," Michael Robinson, the council's parking manager, said of the case.
Car insurance customers may be aware that the council has powers to seize a car if its owner fails to pay after just three penalty notices and makes no effort to get in touch.
Copyright © Press Association 2013