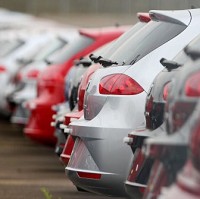 Motor industry representatives say the sector remains strong despite a dip in production last month.
Output dropped by 6.7% to 150,060 new cars in October, compared to the same month in 2013, according to the Society of Motor Manufacturers and Traders (SMMT).
This is less to do with UK-based drivers buying a car built here than a drop in the overseas market, the new figures suggest.
Home market production rose 10.6% to 33,895 in October, while export production fell 10.8% to 116,165 units.
Last month's slow-down means that total UK production for January to October is marginally down - by 0.3% to 1,286,572 - compared to the same timescale last year.
Mike Hawes, the society's chief executive, says that growing uncertainty about the worldwide economy has not impacted on the "strong" UK motor manufacturing sector.
Mr Hawes says multi-billion-pound investment has seen many new models go into production in 2014 with power to add.
Copyright Press Association 2014