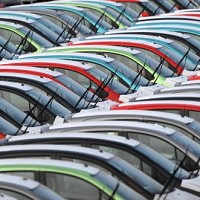 Last year's sales growth in the motor industry has carried into 2015, the first month's figures suggest.
Buying a car was on many people's New Year's resolution list with 164,856 brand new registrations in January.
This represents a 6.7% increase on the same month last year, according to the Society of Motor Manufacturers and Traders (SMMT).
It marked the best January for eight years and was the 35th consecutive month that growth has been achieved. Fleet registrations climbed by almost a fifth (18.1%).
Industry experts are hopeful the sector can build on last year's most successful 12-month period in a decade, as sales hit more than 2.47 million units.
The Ford Fiesta topped January's popularity charts with its Focus stablemate third. Vauxhall also featured twice in the top 10 with the Corsa (second) and Astra (10th).
The Nissan Qashqai, Volkswagen Golf and Audi A3 were placed fourth, fifth and sixth respectively. The Mercedes-Benz C Class, Volkswagen Polo and Fiat 500 made up the top 10.
Mike Hawes, chief executive of SMMT called the figures "encouraging" and the company car sector "strikingly robust". Alternatively-fuelled vehicle sales jumped by 60.8%, he said.
Copyright Press Association 2015