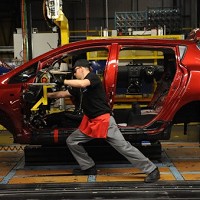 The latest car manufacturing figures make healthy reading for the vehicle industry.
Last month some 132,570 cars were made in the UK - up 2.8% compared with the same month last year.
The figures mean that in 2014 so far, 923,884 cars have been made - 3.4% more than in the first seven months of 2013.
According to the statistics, released by the Society of Motor Manufacturers and Traders (SMMT), the number of cars made for export since 2010 has now passed the five million mark, with export vehicles up 2.9% last month.
Mike Hawes, SMMT chief executive says the five million mark is a "milestone" and said it is good to see the industry continue to grow and strengthen.
Mr Hawes says there is a high demand from abroad for British-made cars, owing greatly to the good reputation of UK manufacturers.
UK car export values have doubled in the past 10 years, according to the SMMT and Mr Hawes said this reflects the huge range of products available from British makers.
Copyright Press Association 2014