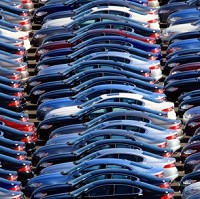 A jump in car purchases saw consumers spend an extra £661 million between April and June.
Figures from the Office for National Statistics (ONS) show that sales were 4.5% higher compared to the previous three months, with drivers keen to get their hands of the latest models.
Spending on transport, particularly cars, was the biggest driver of rising consumer purchases as household expenditure grew by 0.3% during the second quarter of the year.
This total, however, was revised down from an earlier estimate of 0.4%, making it the smallest increase for three quarters.
Car sales have accelerated ahead so far in 2013 as motorists take advantage of the vast array of finance deals on offer.
These often include deal sweeteners such as free car insurance and breakdown cover .
Year-to-date car production is up 3.1%, at 984,545, according to recent industry figures from the Society of Motor Manufacturers and Traders.
Economists said the ONS figures showed the UK's recovery "gained momentum" in the second quarter.
There are now high hopes that the economy will expand further in September, especially with the introduction of the new licence plate registrations.
Copyright Press Association 2013