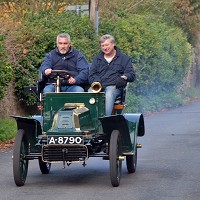 A celebrity cook's dream of competing in an iconic veteran car rally will be no half-baked one this weekend.
Great British Bake-Off celebrity Paul Hollywood is participating in this Sunday's London to Brighton Veteran Car Run .
He will be alongside a cluster of other showbiz stars during the 118-year-old, 60-mile event (96.5 kms). Multi-Olympic gold medal-winning knights, rower Steve Redgrave and sailor Ben Ainslie will also be on the starting line-up, with ex-Mercedes and Ferrari team leader Ross Brawn.
A total of 500 pre-1905 built cars are taking part.
The RAC will be supporting the event with more than 20 patrols along the route as well as CEO Chris Woodhouse taking a seat in a 1903 Daimler with Royal Automobile Club Motoring Committee Chairman Ben Cussons.
Follow progress on the rally via the RAC Press Office Twitter feed which is @RAC_Press
Hollywood will be behind the wheel of a 110-year-old De Dion Bouton, which was made in 1904 and loaned to him by Beaulieu's National Motor Museum.
The baker predicts that the event will be tremendous fun, adding that it has been on his to-do list since his granddad passed down tales about the run. He says it has taken time to get accustomed to controlling virtually everything in the car with his hands.
The race commemorates the anniversary of the national speed limit being raised to 14mph from 4mph in 1896.
Copyright Press Association 2014