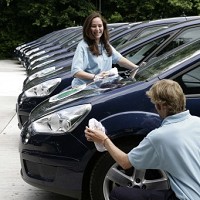 Rental cars help to promote more sustainable travel habits, new research suggests.
People in the UK use rental vehicles for a wide range of reasons, according to the study by transport research body TRL, but in particular, renting enables many people to own fewer cars or avoid car ownership altogether.
The research, which was carried out on behalf of the British Vehicle Rental and Leasing Association (BVRLA), finds that rental customers tend to have more sustainable travel habits than average licence holders.
It may also be the case that rental customers are savvy when it comes to using ajourney planner to identify the most efficient routes, as the study suggests rental cars are typically used more efficiently than private vehicles.
The BVRLA is arguing that the findings add weight to its call for policymakers to give more consideration to car rental in future.
"We believe that car rental, car clubs and car sharing are part of the same family of pay-as-you-go motoring options that all contribute to a more sustainable, less intensive approach to car use, particularly in urban areas," said BVRLA chief executive Gerry Keaney.
Copyright © Press Association 2013