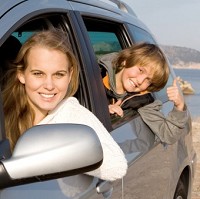 Families might have to pay more than £500 in 'extras' when hiring a car in mainland Europe this summer, new research suggests.
The price of a two-week car rental can almost double as a result of the additional fees, according to the Daily Mail.
Its investigation reveals that a Ford Focus equivalent for a fortnight in Alicante costs from £561.76 with Hertz, while Avis would charge £631.43 for the car in Nice and with Europcar it would be £600.76 from Malaga.
However, those quotes cover the bear minimum and the true cost soon mounts up when factors like child car seats - which can cost over £60 for a fortnight - and sat-navs are added.
Then there is the issue ofcar insurance to think about, with standard collision damage waivers carrying a hefty excess of as much as £2,000.
Buying more insurance may be the only option for removing that excess, making it tricky to make an informed choice on car hire in advance.European Breakdown Cover is always something which can be sorted out cheaply back home.
Europcar UK Group managing director Ken McCall said: "The reason some costs cannot be paid for in advance is simply because they are sourced locally by our local service providers and cannot, therefore, be incorporated into the online reservation quote."
Copyright © Press Association 2013