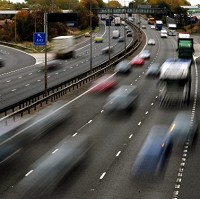 Latest figures show the number of licensed vehicles on the roads has surpassed 35 million for the very first time.
According to statistics, at the end of 2013 there were 35.03 million licensed vehicles on British roads. Of the total, 29.14 million were cars; 1.22 million were motorcycles and 3.35 million were light vehicles.
Lift trucks, diggers, taxis and agricultural vehicles are also included in the total.
The figure is 500,000 higher than the 34.52 million vehicles registered at the end of 2012.
Over the past two decades the number of cars on the roads has risen steadily in Britain. In 1994 there were only 25.23 licensed vehicles in the country.
Of the 24.68 million cars in England last year, almost 10% (2.54 million) were in London, while the south east had 4.77 million. The north east was the region with the fewest cars, with 1.05 million registered to owners in the area.
In London there were 306.8 cars per 1,000 people - the lowest number of cars per head. This is mainly down to the congestion charge and the wide availability of public transport in the capital.
RAC chief engineer David Bizley said: "It stands to reason that with a steadily growing population we will inevitably see the number of licensed vehicles on our roads increase. With this rise in vehicles it is vital that our roads are fit for purpose and capable of handling even larger traffic volumes. But every extra vehicle, of course, also brings the Government additional revenue in car tax and fuel duty which badly needs to be reinvested into the road network.
"Sadly though, our roads are already way below standard and the country has slipped down the global road quality league table and is now level with countries like Puerto Rico and Namibia.
"Our research shows that maintenance of the road network is the top transport spending priority for the majority of motorists who clearly want to see an end to the cycle of deterioration and under investment that has led to all-year-round potholes and the 'developing world' status of our roads."
Copyright Press Association 2014