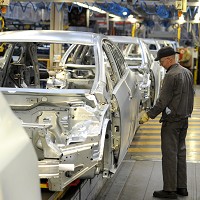 July saw a speeding up of UK car production with 128,873 being manufactured - a rise of 7% on last year's July figure.
This took the total so far in 2013 to 893,263, representing a 1.9% rise on 2012's January to July figure.
Engine production in July showed a 26.4% increase to 232,545 and is a 2.1% rise for 2013 so far at more than 1.55 million.
The news implies that plenty of road users are in the market for a new car and new car insurance and breakdown cover deals.
On the other hand, July's commercial vehicle production showed an 11.8% fall on last year at 7,942.
This year's production has hit 56,459 so far - a 13.3% decrease on the first seven months of 2012.
The figures come from the Society of Motor Manufacturers and Traders whose interim chief executive Mike Baunton said there were small recovery signs from Europe which would support stronger production levels this year.
Manufacturers will keep building and developing innovative, high-quality products which appeal to a worldwide customer base, said Mr Baunton.
Copyright Press Association 2013