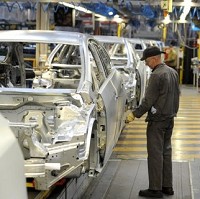 British car manufacturing continued to prosper in November as the number of vehicles produced rose by nearly five per cent on the same time last year.
The Society of Motor Manufacturers and Traders (SMMT) revealed a total of 142,825 cars were manufactured in Britain last month, a rise of 4.9 per cent.
That took car production for the first 11 months of 2012 past the 1.36 million mark - more than a nine per cent increase on last year's January to November number.
Commercial vehicle (CV) production did, however, fall by 3.6 per cent to 10,974, while engine production dropped to 223,853, a change of 1.4 per cent.
The 2012 CV production has decreased by 5.9 per cent to 105,188. Engine production has dipped by 0.3 per cent to just above 2.34 million.
SMMT chief executive Paul Everitt says UK car manufacturing has gone from strength to strength in 2012, mainly because of the global appeal of its products.
"This is good news, but there can be no room for complacency. The development of a long-term industrial strategy and consistent support by Government is essential to secure future success and more opportunities for the UK-based supply chain," he said.
Copyright Press Association 2012