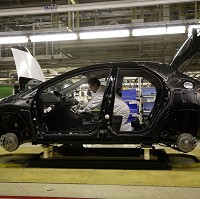 Three cars were built every minute in the UK during the first half of the year, according to figures released by the Society of Motor Manufacturers and Traders (SMMT), as automakers stepped up efforts to meet demand.
A total of 793,642 cars rolled off production lines between January and June, up by 0.3% year-on-year, representing the best half-yearly production output since 2008.
It means production volumes have soared by more than 50% since 2009.
SMMT chief executive Mike Hawes says the six-year high in car production reflects significant investment over the past decade.
He claims the new car sector in the UK is ahead of the game when it comes to productivity, with a focus on efficient manufacturing processes and a highly skilled workforce - and he expects to see more investment in the coming years.
Some 143,759 cars were built in June alone, up 5.4% on the same month last year.
Production for export soared by 9% during the month, outperforming that for the domestic market, which fell by 7.1%, reversing a trend seen in previous months.
The SMMT data also shows car manufacturing achieved £100,000 in value added per employee in 2014, up 35% compared to £74,000 in 2010.
A number of new models are set to hit production lines in the coming months, as manufacturers bid to meet buyer demand .
Mr Hawes says a positive relationship with the government is behind the success of the new car sector. But he claims more investment is needed if the industry is to maintain its international competitiveness.
Copyright Press Association 2015