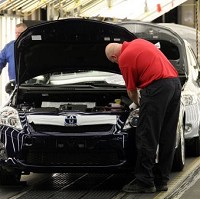 The number of cars being produced in UK factories rose by 21.3% in April - the largest monthly increase since July 2012.
Figures from the Society of Motor Manufacturers and Traders (SMMT) show that some 133,497 cars were made in the UK last month.
The group's chief executive Martin Hawes says an influx of new models on the market and growing demand from the continent are helping spur such impressive growth.
Around half of all cars made in the UK are exported to Europe, as many economies across the channel begin to recover from the recession.
Domestically, car manufacturing has been boosted by a number of makers pledging to make vehicles in this country, including Nissan which is employing 400 extra people to facilitate 24-hour production.
Meanwhile Land Rover is creating 1,700 new jobs at its UK base in Solihull.
Mr Hawes predicts the upward trend will only continue as investment levels in the sector remain high. He said the positive news will be welcomed by suppliers and employees across the country.
Copyright Press Association 2014